---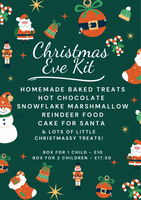 Get ready for the Big Man's visit!
Our Christmas Eve Kit has everything you need to celebrate Christmas Eve and get ready to welcome Father Christmas!
Included in the kit:-
Handmade Baked Treats
Hot Chocolate Cone & Snowflake Marshmallow
All to be enjoyed on Christmas Eve by your little ones!
Reindeer Food
To help guide Rudolph and Father Christmas' Sleigh to your house
A special cake to leave out for Father Christmas
Word has it this is his favourite!
All Christmas Eve Kits will be postes on Tuesday 19th December
Kits can be made up for 1 or 2 children - larger family sizes can be accommodated just get in touch!